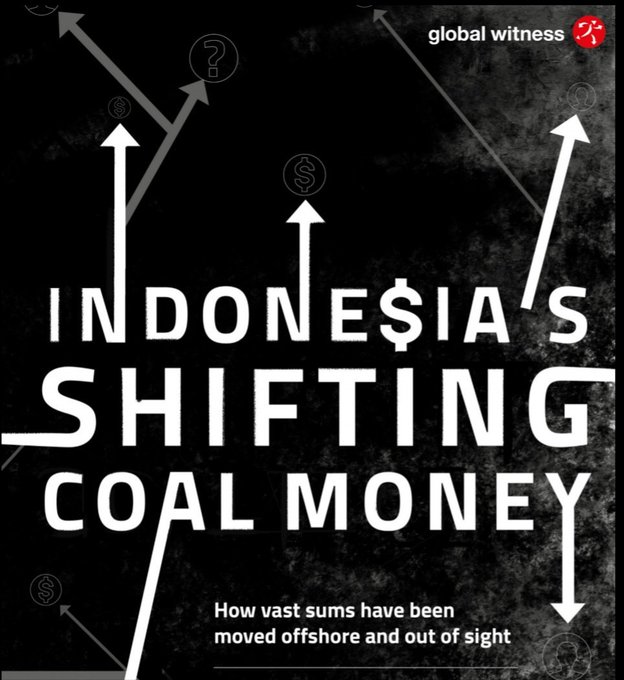 Tonight insomnia is presented by: Indonesia's Shifting Coal Money
Report by Global Witness
Two different cases, involving two different indonesian coal companies, connected to two different political big shots. Couldn't care less about the latter, for it's all around twitterland, anyway. What sparks interest is how the aftermath of Panama Papers remains on stage.
Global Witness released two reports, each covering these cases, under the big frame of Indonesia's Shifting Coal Money.
The first report covered the offshore dealings of Berau Coal company. This report highlighted the large payments made by Berau Coal to an obscure offshore company, Velodrome Worldwide Ltd. It seems the political figure involved got a hold of this payment from end-to-end.
How so? Recapital Advisers, investment company co-founded by this figure, took over Berau Coal in the end of 2009. Few days later in early 2010, Berau Coal signed an agreement with Velodrome Worldwide Ltd to provide assistance for Berau with US$ 2 million in monthly fee.
This payment to Velodrome is highly questionable for the service provided to Berau Coal is unclear. These payments continued even when Berau Coal suffered loss in 2012 amounting to US$ 180 million.
Falling prices of world coal did contribute to this loss, but it also due to US$ 150 million in payments that need to be write off as 'exceptional costs' for they couldn't be explained properly.
2012 is when the contract between Berau and Velodrome came to an end. In 2011, Recapital sold majority of its ownership in Berau to Bumi Plc, a giant coal mining company which is a joint venture between Nat Rothschild and Bakrie.
It is by the end of the investigation held by a law firm hired by Bumi Plc, then the agreement between Berau and Velodrome was terminated, almost 12 years prior to the originally agreed completion date.
Berau Coal then in 2013, now under the control of Bumi Plc, stated that the value of the agreement with velodrome is unclear to the business. While in the other hand, stating it failed to identify the ultimate beneficiaries of those aforementioned transactions.
It's for the identities of Velodrome owners were not public at the time of the payments. Why, because Seychelles, an east african country where Velodrome is incorporated, required no public disclosure of this information.
This mystery remained unsolved until the Panama Papers leak in 2016 got released by ICIJ. This leak apparently revealed how the same political figure who co-founded Recapital had been Velodrome's sole shareholder and director, from its incorporation in October 2007 until May 2009.
Even though the ownership got transferred after that period, and there is still no evident leak indicating the ownership status of Velodrome at the period of the payments by Berau Coal between January 2010-December 2012.
At the end of the game, after this scandal broke out and resolved in Singapore court, Berau Coal defaulted in some of the bonds it issued and the bondholders are still negotiating over the repayments of these debts. While Rothschild walked away from the fiasco with a damaged rep.
The second case is different in nature, that it seems to be less monumental and directly damaged investors as in the first case.
So the next political figure under the spotlight in the second report owns 99% shares of Toba Sejahtera.
Just until November 2016, Toba Sejahtera retained its majority 72% ownership of Toba Bara Sejahtera, a mid-sized coal mining company.
Because in November 2016, Toba Sejahtera sold 61.79% of Toba Bara shares it owned to Highland Strategic Holdings, a Singapore company.
But that's not all. Highland Strategic Holdings is owned by Watiga Trust Pte Ltd, also a Singapore-based company. Watiga Trust is a trust company which holds assets on behalf of other investors.
In other words, as was mentioned in this report, neither Watiga Trust and even Watiga Trust's owners, be the ultimate beneficial owners of Highland Strategic Holding, thus Toba Bara Sejahtera's majority owners as well.
Watiga Trust is no more than a trust company.
A trust company which holds the shares of Toba Bara Sejahtera on behalf of other people, who owned Highland ultimately. And it's not possible to identify this mysterious investors from public documents.
Henceforth, Toba Bara majority shares now belonged to hidden buyers.
Other than the ownership transfer of Toba Bara in 2016, the report has no other major issues to cover. The report did mention about how Toba Bara obtained a contract to build or run a large number of coal-fired power stations, and the dwindling coal price in the other hand.
But with a little endeavor to elaborate Toba Bara financial performance aspects post ownership transfer in 2016.
Interesting informations can sure be unearthed through diving in Toba Bara's 2016-2017 annual report. Here you can download
Toba Bara's 2012-2017 annual reports, just in case you got sparked into doing your own research.
So, here we go. As we can observe here, Toba Bara has 3 main business segment. The key business segment that contributed the biggest portion to company profit is of course coal mining. Initiating power plant as new segment in 2016. And minor plantation segment by child entity.
For a mid-class coal company, Toba Bara was quite expansive. That as of 2017, Toba Bara has six child entities under its wing. It is an interesting fact that in 2016, Toba Bara signed a shares trading agreement with Toba Sejahtera to increase its ownership of GLP company.
GLP or Gorontalo Listrik Perdana was established in 2016 to manage the development of Coal-fired Power Plant (CFPP/PLTB) projects in north Sulawesi. In July 2016, GLP obtained 25-years of Power Purchase Agreement (PPA) with PLN under Independent Power Producer (IPP) scheme.
With GLP and its CFPP projects wrapped around its finger, in 2017 Toba Bara made its fortune by booking twice of its operating profit in 2016, even though there only was 20% increase in its revenue.
Financial support is also wide open that Toba Bara and GLP acquired financing facilities from Bank Mandiri (state-owned bank), related to the aforementioned power supply contract. As presented below, Toba Bara's total bank loans tripled compared to the amount it booked in 2016.
Whoever it is, the unknown buyers of Toba Bara shares start riping now that its investment comes to fruition.