Total financial decentralisation should not be considered as a panacea. Especially when municipal govts are miles away from self-sufficiency.
In China, local governments are given freedom to issue bonds in order to finance its activities. It is a rated bond, for both general purpose and project financing.
Now this is where it gets interesting. Some of these bonds are issued under off-balance sheet scheme, so it is nowhere to be found on local govts' financial positions.
How come? In some cases, it's because the bonds are issued by local-government financing vehicles (LGFV).
Say, for example, bonds issued by Qinghai Provincial Investment Group Co. (QPIG), govt-owned aluminium producer, as can be seen here.
Bloomberg recently reported that QPIG had failed to wire funds for a coupon payment due Feb 22, suggesting it is currently in default status.
However,
the use of these off-balance sheet LGFV bonds to finance municipal infrastructure construction had been forbidden since 2014.
or this scheme is to be replaced by another form of off-balance sheet bonds. The project municipal bonds. Yes, you heard it right, those are local govt project-financing bonds, yet just like LGFV bonds, are excluded from local govts' book.
It's considered as special bonds which issuance was meant to partake in the endeavor to reform the high-piling LGFV debts.
Under this scheme, the cash flows from underlying projects will cover for interest and principal payments. And investors shall shoulder any shortfall.
For example Henan Province's 1.5 bill Yuan, 15-year project bond to finance new subways. It's offered at 3.79 percent interest rate.
These off-balance sheet local government bonds are attractive. According to Bloomberg, these securities offerred corporate bond yields, yet being perceived among investors as having quasi-sovereign credit status.
Even though, in 2015 China State Council had stated that these bonds issued by LGFV qualify as corporate bonds. Which means, no government backstop.
Despite the cases of the default risk that has befallen similar off-balance sheet instruments, yield-thirsty investors doesn't seem to budge.
Bloomberg recent opinion column showed how AA rated, 3-year LGFV issues yield got compressed to 3.9 percent from 5 percent in just half a year.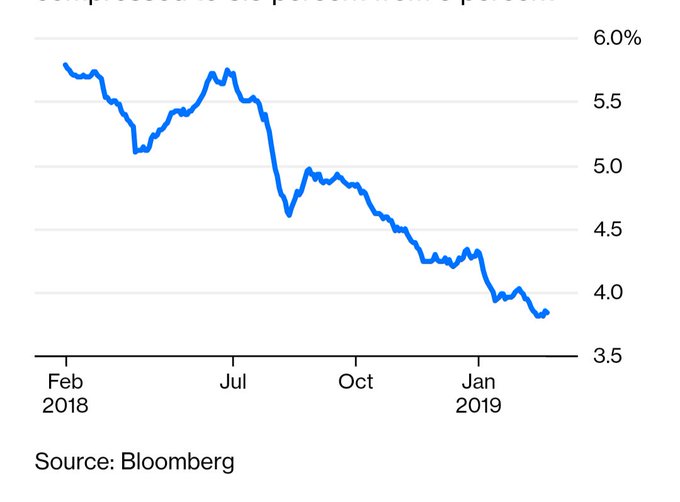 Let's also remember how China local govts' had begun to swap those less-transparent LGFV debts into on-balance sheet bonds since 2015.
In addition to current economic quarrel with US for the tariffs imposed to China, it is quite ironic seeing how Beijing holds up to the global one belt and road ambition.